Description
Above all, ANACOS hair & body repairs, restores and cares for hair, making it soft and smooth. In addition, it frees every part of the body from dirt, sweat and excess sebum. Its excellent ingredients treat, protect and moisturize the skin, pre-venting it from becoming dry, and leaving it fresh, soft and supple.
Contents: 200ml
To learn more...
---
Das Produkt ist einsame Spitze! Kann es nur empfehlen, vor allem für die tägliche Gesichtsreinigung!
26/02/2016, 17:36
User5166XXXX
---
Non ne posso far a meno è ottimo
19/04/2017, 15:00
User13056XXXX
---
delicatissimo sulla pelle, e sono tranquilla perchè è totalmente naturale
09/08/2017, 15:41
User4990XXXX
---
eccellente prodotto naturale estremamente delicato anche sulla mia pelle super-sensibile. lo uso efficacemente anche come shampoo
09/08/2017, 15:46
User4809XXXX
---
31/08/2017, 17:57
User16839XXXX
---
Das beste Shampoo das ich je hatte.
Das Produkt überzeugt voll und riecht sehr angenehm.
Bei anderen Shampoos bekomme ich immer Juckreiz auf dem Kopf, Anacos ist das erste wo ich das nicht mehr habe.

06/12/2017, 22:11
User18875XXXX
---
Echt toll, verwende es täglich! Super Reinigungseffekt bei geringem Verbrauch!
09/02/2018, 22:04
User17099XXXX
---
Ein wunderbares Shampoo für Haare und Körper. Es hat einen wunderbaren angenehmen Zitrusduft. Es brennt nicht in den Augen und nach dem Waschen fühlt sich die Haut sauber und fettfrei an. Die Haut trocknet nicht aus und ist geschmeidig.
16/03/2018, 17:36
User22668XXXX
---
Habe das Shampoo bzw. Duschgel jetzt seit ca. ein halbes Jahr in Verwendung und bin sehr zufrieden.
Ist sehr ergiebig und hat einen angenehmen Geruch.
21/03/2018, 11:41
User15765XXXX
---
PRODOTTO FANTASTICO, SENTI LA TUA PELLE MORBIDA E SANA AAAAA+++++
29/05/2018, 11:52
User23433XXXX
---
Für mich 5 Sterne, ist ein klasse Produkt wirklich für Haut und Haare. Ist gar nicht so klebrig und ohne Film bei Ausspülen der Haare. Bin auf die Langzeitwirkung gespannt.
12/06/2018, 15:42
User25578XXXX
---
13/07/2018, 11:31
User23433XXXX
---
13/07/2018, 11:37
User23433XXXX
---
Ich benutze es täglich beim Duschen. Meine Haut fühlt sich jung und geschmeidig an. Bei meiner Freundin ist das Haar nach wenigen Anwendung weich und glänzend. Auch sie ist begeistert.
25/07/2018, 07:59
User17974XXXX
---
ANACOS ist das beste Hair + Body was bis jetzt benutzen durfte.
01/08/2018, 15:18
User14759XXXX
---
Spitzenprodukt! sehr sparsam, wunderbares Gefühl auf der Haut, angenehmer Duft
02/08/2018, 23:20
User15003XXXX
---
07/08/2018, 13:46
User18288XXXX
---
27/08/2018, 11:43
User23433XXXX
---
Ein echter Alleskönner!
Ob Haare, Gesicht und Körper- ich verwende nur mehr dieses Produkt.
Angenehmer Duft, sanfte Reinigung und ein weiches Haut- und Haargefühl!
Sollte in keinem Badezimmer fehlen.

30/08/2018, 07:25
User27686XXXX
---
02/10/2018, 23:11
User25549XXXX
---
Das ANACOS hair & body hat mich echt überzeugt. Super natürlicher Geruch und jedesmal sehr angenehm auf der Haut.
14/10/2018, 09:44
User33552XXXX
---
03/11/2018, 19:00
User31092XXXX
---
26/11/2018, 14:34
User32489XXXX
---
30/11/2018, 18:13
User33038XXXX
---
Fühlt sich gut an und hält, was es verspricht. Zu empfehlen.
30/12/2018, 12:27
User23382XXXX
---
30/12/2018, 17:32
User31092XXXX
---
Cremig in der Anwendung fühl sich gut auf der Haut an.
24/01/2019, 00:35
User27914XXXX
---
21/02/2019, 14:12
User38733XXXX
---
Eun prodotto che ti inamori
10/03/2019, 16:11
User23433XXXX
---
Wirklich super und sehr angenehm auf Haut und Haare.
Herzlichst
Helmut Amon
www.vitalundchick.at

16/05/2019, 14:10
User24544XXXX
---
13/06/2019, 21:56
User41301XXXX
---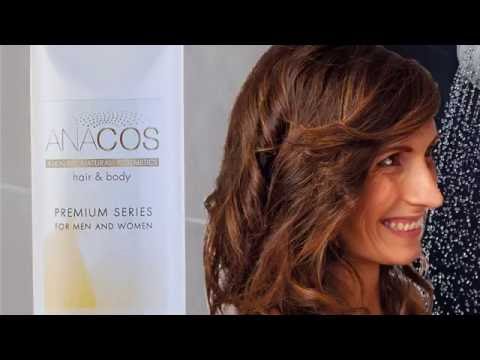 yEtztxdB-sA
SANUSLIFE® INTERNATIONAL GmbH / s.r.l.